This report originally published at southcom.mil.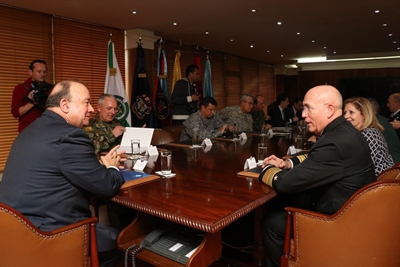 Feb. 12, 2018 —
Navy Adm, Kurt W. Tidd, commander of U.S. Southern Command, visited Colombia Feb 9 – 10 to discuss security cooperation with the nation's top leaders and get a firsthand look at Colombia's peace-building and security efforts.
During the trip, Tidd met with President Juan Manuel Santos and Vice President Oscar Naranjo and discussed U.S.-Colombia security cooperation efforts. Tidd also held a meeting with Minister of Defense Luis Villegas and Chief of Defense Alberto José Mejía.
On the second day of the trip, Tidd visited a Colombian joint task force in Tumaco that is leading efforts to counter security threats in that region of the country.
"I want to underscore our commitment to deepening our longstanding partnership with the Colombian Armed Forces and National Police in support of security and stability across our hemisphere and around the globe," Tidd said at a press briefing in Tumaco.
"Our Armed Forces have stood alongside each other for decades and we continue to play a role in U.S. assistance to the Colombian people as they embrace the opportunities of the post-accord era," Tidd said.
SOUTHCOM's defense partnership with Colombia is one of the command's strongest in the region and contributes to regional security, peace and stability. Current cooperation is focused on:
Aviation
Maritime security
Logistics
Humanitarian assistance
Communications
Information sharing
Human rights
Professional development
Maintenance
Demining
Cyber security
Medical
Disaster preparedness
U.S. Southern Command (SOUTHCOM) reports are created independently of American Military News (AMN) and are distributed by AMN in accordance with applicable guidelines and copyright guidance. Use of SOUTHCOM and U.S. Department of Defense (DOD) reports do not imply endorsement of AMN. AMN is a privately owned media company and has no affiliation with SOUTHCOM and the DOD.