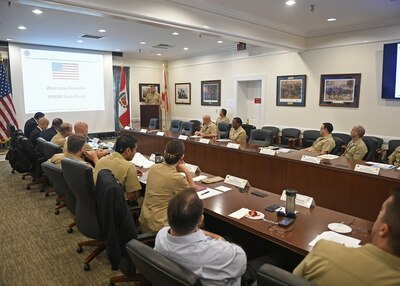 June 8, 2018 — ST. AUGUSTINE, Fla. (NNS) — Commander, U.S. Naval Forces Southern Command/U.S. 4th Fleet, Rear Adm. Sean Buck, and staff hosted Peruvian Chief of Staff of General Command of Pacific Operations, Rear Adm. Alberto Alcala Luna and his staff for Maritime Staff Talks (MST), June 4-6.
The MST with senior Peruvian naval officers supports the U.S. global maritime strategy by building and strengthening working partnerships with regional partners by improving interoperability with face-to-face meetings.
"Looking back over the last year, I'd like to use these talks this week to focus on the progression of interoperability," said Buck. "It's only going to be through the coordinated efforts of the Peruvian navy and the U.S. maritime services working together, that we will be able to achieve both our objectives, we're going to demonstrate our long term commitment to one another and further the trust and confidence that we have between us."
Upon the conclusion of the MST, both nations will have a stronger working relationship and clear-cut goals for the upcoming year to enhance interoperability through numerous multinational exercises.
"I will say to our relationship is increasing day by day," said Alcala. "My staff and I will continue to make the extra effort and take extra time to do these MSTs, because as you said Admiral Buck, UNITAS was a very good exercise and it shows that when working together, we can do anything."
Peru is slated to participate in exercises UNITAS and PANAMAX later this year. These multi-lateral exercises help improve the ability of participating naval forces to work and operate effectively in complex environments.
U.S. Naval Forces Southern Command/U.S. 4th Fleet (USNAVSO/FOURTHFLT) fulfills the maritime role within U.S. Southern Command's joint and combined military operations. USNAVSO/FOURTHFLT employs maritime forces in cooperative maritime security operations to maintain access, fortify the ability of U.S. forces to work together with partner nations and build enduring partnerships with the ultimate goal of enhancing regional security and promoting peace, stability, and prosperity in the Caribbean, Central and South American regions.
For more information, visit www.navy.mil, www.facebook.com/usnavy, or www.twitter.com/usnavy.
For more news from U.S. Naval Forces Southern Command & U.S. 4th Fleet, visit www.navy.mil/local/cusns/.