This report originally publishes at marines.mil.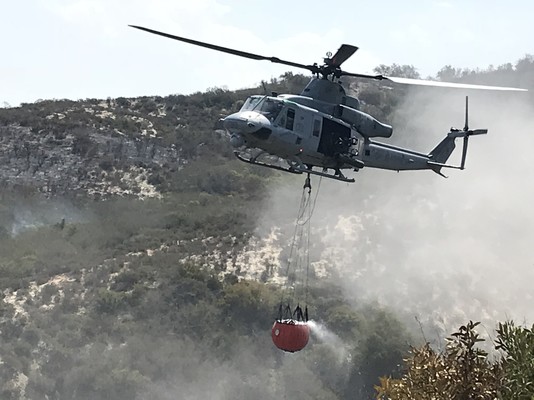 MARINE CORPS AIR STATION CAMP PENDLETON, CA —
Marines with Marine Aircraft Group 39 quickly took action when a large brush fire broke out at Camp Pendleton just before noon on July 6, forcing the evacuation of Lake O'Neil, Wounded Warrior Regiment and Deluz Housing. Marines with Marine Light Attack Helicopter Squadron 267, 3rd Marine Aircraft Wing, conducted 60 water bucket drops from two UH-1Y Venoms in support of the "Vandegrift Incident" which burned more than 560 acres.
Later that evening, a second fire broke out in Horno, which quickly covered over 1,000 acres. MAG-39 mobilized another two Venoms from HMLA-267 and two more from HMLA-169. During the eight flight hours in support of the "Horno Incident," the four aircraft conducted 188 drops.
Marines worked alongside fire departments from Oceanside, Orange County, San Marcos, CAL FIRE and the U.S. Forestry Service.
In all, six aircraft from 3rd MAW conducted nearly 250 water drops over two separate fires in 30 hours. Without aircraft support, firefighters would have been forced to climb on foot down a steep canyon to fight the fire in 90-degree heat.
Residents have since returned to their homes and regular base operations have continued.
"MAG-39 is proud to be a part of the team effort that fought the recent wildfires in and around Camp Pendleton," said Col. Matthew Mowery, MAG-39 commanding officer. "Using aircraft to complement the work of numerous brave firefighters on the ground reduces some of the risk for ground crews and allows rapid delivery of water to places without a readily available source. Our combined efforts this weekend ensured no loss of life or damage to structures and we stand ready to assist in the future."
U.S. Marine Corps (USMC) reports are created independently of American Military News (AMN) and are distributed by AMN in accordance with applicable guidelines and copyright guidance. Use of USMC and U.S. Department of Defense (DOD) reports do not imply endorsement of AMN. AMN is a privately owned media company and has no affiliation with USMC and the DOD.