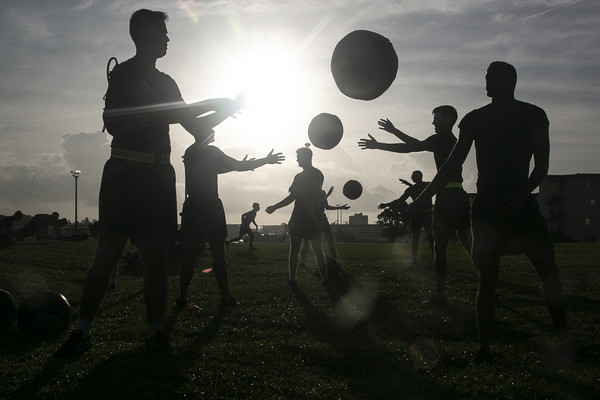 MARINE CORPS BASE CAMP PENDLENTON, Calif. —
Noncommissioned officers lead – they are the backbone of the Marine Corps. So it makes sense that they would be the first to experience the 31st Marine Expeditionary Unit's Force Fitness Instructor led High Intensity Tactical Training program. After all, NCOs will lead the program across the 31st MEU as the unit aims to improve the overall fitness level of its Marines and Sailors while reducing physical training related injuries and building unit morale.
The NCOs met early June 8 to HITT the field at Camp Hansen in Okinawa, Japan, green clad and ready to sweat in the humid Okinawa heat. Carrying CamelBaks and sweating motivation, the Marines and Sailors of the Marine Corps' only continuously forward-deployed MEU got to work.
HITT, a concept adopted across the Marine Corps several years ago, is a functional fitness program designed to improve Marines and Sailors athletic abilities. The leaders of the Corps-wide initiative are Force Fitness Instructors, unit representatives trained to implement HITT at the unit level in a safe, organized manner, according to Gunnery Sgt. Donald Mendiola, a spectrum manager and one of two FFIs currently with the 31st MEU.
"The vision is a more capable and lethal warfighter who is able to use a holistic approach to sustain physical, mental, and spiritual fitness to endure the rigors of combat," said Mendiola, a native of Saipan, Commonwealth of the Northern Mariana Islands. "We want Marines to be in just a good of shape from enlistment to retirement."
While physical fitness is a hallmark of the Marine Corps, finding a way to reduce physical training related injury can be a challenge. The Corps' answer is HITT and FFIs will lead the way, according to Mendiola.
"Previously we would stretch from head to toe, do a few warmups, go for a run with a few stations, cool down, maybe stretch and be done with PT," said Mendiola. "We want Marines to be functional even after retiring from the Marine Corps."
Another advantage of HITT and the FFI program is their effect on unit morale. Shared challenge and commitment to physical fitness combine to form a goal-oriented training program within small units. The 31st MEU command element is composed of nearly 350 Marines and Sailors at any given time and is small-unit oriented – its NCOs are a key component of the unit's mission accomplishment, according to Staff Sgt. David Farfan, a native of Brooklyn, New York.
"Training like this will be a continuing effort here at the 31st MEU," said Farfan, and FFI and the comptroller chief with the 31st MEU. "We're going to be focusing on the NCOs so they can begin training their junior Marines in the same way."
As the program develops, NCOs are imperative to its success, said Farfan. Since the FFI program is in its relative infancy, it will develop and improve as more Marines learn how to implement the fitness program in better ways.
"The program is an animal, and it will continue to grow and mature as we get more Marines into it," said Farfan. "With our NCOs, I have no doubt it will change the way a lot of our Marines train, and I'm sure it will be a good fit for a lot of our Marines and Sailors."