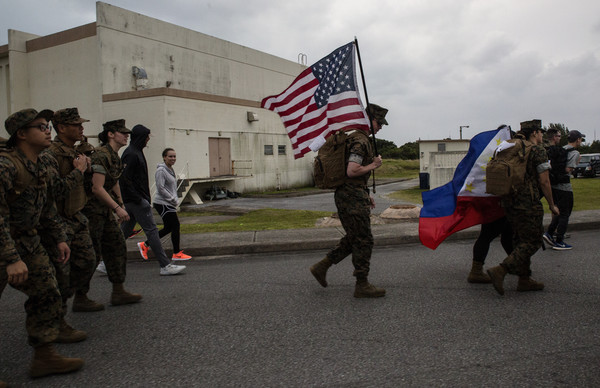 KADENA AIR FORCE BASE, OKINAWA, Japan — Since the end of the Spanish-American War in 1902, the U.S. and Philippines have worked diligently to maintain an unshakable alliance. During WWII, that alliance was put to the test when 1st Marine Aircraft Wing took to the skies in the Philippine theater to drive out the invading Imperial Japanese Army.
Now, more than 100 years after the Spanish-American War, Marines with 1st MAW took the opportunity to honor that longstanding alliance during the Bataan Death March Memorial hike, April 7, 2018 on Kadena Air Force base, Okinawa. More than 200 service members and their families participated in the 8.5 mile hike around Kadena's perimeter in remembrance of the prisoners of war who perished as a result of the Death March that took place in the Philippine Peninsula.
On Nov. 28, 1944, 1st MAW answered the unexpected call to defend the Philippines from the invading IJA. Without pause, 1st MAW arrived and logged their first mission in the Philippine Campaign on Dec. 3, 1944.
Considered a highly qualified aerial fighting force, 1st MAW proved to be instrumental in the Philippine theater. In December alone, they flew 264 combat missions, which were credited with the destruction of 53 enemy vessels and aircraft. In addition, Marine Night Fighter Squadron 541, a 1st MAW asset, flew 312 missions credited with downing 20 enemy aircraft.
The Alliance produced victory after victory in the Philippine archipelago. However, not every American unit went unscathed during the campaign.
"At the start of the Bataan Death March, it's estimated that 78,000 American and Filipino Soldiers combined were present," said Evan Muckson, a deputy historian with 18th Wing. "It's believed, about a third of those men didn't make it to the end of the march."
In the Bataan Peninsula, those estimated 78,000 Filipino and American forces included U.S. Army National guardsmen, U.S. Army Soldiers, and U.S. Marines. The IJA began the forced move of the combined force by foot and railway over 60 miles on April 9, 1942, causing the death of an estimated 5,650 to 18,000 POWs.
"Being a part of this memorial means a lot to me and my wife," said Lance Cpl. Andrew Lauer, a heavy equipment operator with Marine Wing Support Squadron 172. "I think it's important to show that we haven't forgotten those men who have died before us."
The friendship between the U.S. and Philippines throughout history, ranging from political disagreements to the shared bloodshed during the Bataan Death March, is one that has endured the strains of hardship. Today that relationship is exercised by joint participation in combined training during major exercises such as the Philippine Amphibious Landing Exercise and Balikatan.
"We've had ties to one another for such a long time," said Muckson. "I'm hopeful that in the future both the U.S. and Philippines continue to have a good relationship."