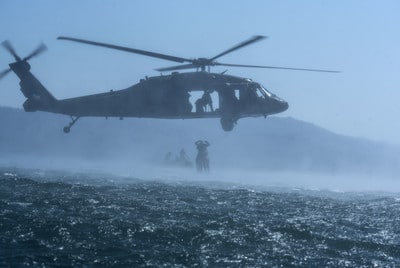 SOTO CANO AIR BASE, HONDURAS, March 14, 2019 —
Joint Task Force Bravo's 1-228th Aviation Regiment worked with the 7th Special Forces Group to train Salvadoran Special Forces soldiers in paradrop operations, helocast and fast rope insertion extraction system training in El Salvador, March 4-7.
The purpose of the training was to familiarize the Salvadoran forces with helicopter insertion techniques so they are ready to utilize the aircraft's assets as their mission requires.
"Special Forces Operational Detachment Alpha accomplished an air week program of instruction utilizing UH-60 Blackhawks for the Grupo de Operaciones Especiales and Comando Especial Antiterrorista," said an SFODA commander.
During the joint exercise, Special Forces members conducted parachute training from a Blackhawk, amphibious insertions, also known as helocasting, which is jumping from a short distance from the aircraft into the water, and FRIES, which is a technique of exiting an aircraft via sliding down a rope without harness equipment.
"The specific element that SFODA partnered with is the GOE Delta Company, which are the 'Comandos Navales,' a maritime focused unit," said the commander. "The company can use these insertions methods to participate in real world operations in the country of El Salvador, therefore the training substantially increased their readiness. Also, SFODA was able to obtain airborne currency and valuable training experience in FRIES and helocasting.
"The training event functioned as a capstone to SFODA's programs of instruction that took place over six months," said the commander. "It focused on certifying the GOE on rotary wing insertion methods. The partner force is now at the capacity to conduct this type of training on their own with their rotary platforms and use them in real world missions."
This also allowed the aircrews to qualify on these tasks to further expand their experience and readiness.
"This training is very beneficial for aviators," said Capt. Peter Schlatter, 1-228th Aviation Regt. assistant operations officer. "All of these tasks we've done this week require a certification, which means an instructor pilot has to sign you off after you conduct a number of iterations, so while we were training the Salvadorans we were able to accomplish a lot of training as well."
Joint Task Force-Bravo continues to work alongside its host nation of Honduras as well as their Central American neighbors to promote stability in the region. Through these airborne training operations, the 1-228th Avn Regt. and 7th SFG have worked to strengthen the partnership between the U.S. and El Salvador by preparing Salvadoran Special Forces to counter threats affecting the region while building the readiness and experience of U.S. Special Forces and aircrews.