Kim Ogg is running for local office in Texas, and has some beef with veterans group Helping A Hero. I really couldn't follow her reasoning — something about paperwork — because of the abuse she was giving to the American flag.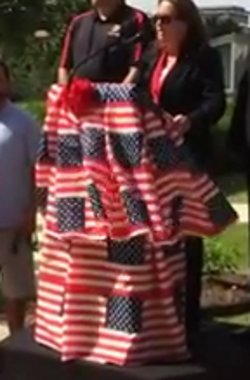 Sorry, what was that? Non-profit reports not filed? I really can't hear you over the ABUSED FLAGS SCREAMING AT ME.
This attack against Helping A Hero may have merit, or it may be another example of using the power of government to go after patriotic groups.
Several smaller American flags are sewn together and used as some weird curtains. Some of the flags in the curtain are displayed right side up, some upside down.
Watch.
Politician Attacks Veterans Group While Desecrating Flag