USAF Weapons School at Nellis AFB in Nevada hosted Joint Forcible Entry Exercises (JFEX) over the Nevada Test and Training Range on May 31 and June 21, 2014.
JFEX is a US Air Force Weapons School large-scale air mobility exercise in which participants plan and execute a complex air-land operation in a simulated contested battlefield. JFEX exercises participants' ability to synchronize aircraft movements from geographically-separated bases, command large formations of dissimilar aircraft in high threat airspace, and tactically deliver and recover combat forces via air drops and combat landings on an unimproved landing strip.
Scroll down for a video montage of the event.
What is the Weapons School?
` The Joint Forcible Entry Exercise is put on by the USAF Weapons School at Nellis AFB near Las Vegas, NV.
The USAF Weapons School teaches graduate-level instructor courses that provide the world's most advanced training in weapons and tactics employment. During the course, students receive an average of 400 hours of graduate-level academics and participate in demanding combat training missions.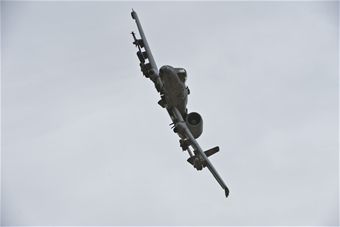 The goal of the course is to train students to be tactical experts in their combat specialty while also learning the art of battle-space dominance; this ability to create such a complete overmatch in combat power in any domain of conflict that adversaries have no choice but to submit or capitulate. Using an integrated approach means that Weapons School graduates are extensively familiar not just with the weapons platform or system they have been trained in through their career path, but also in how all USAF and DOD assets can be employed in concert to achieve synergistic effects.

The culmination of the course is the Mission Employment phase integrating all assets in challenging scenarios simulating current and future threat arenas. Students demonstrate their ability to lead and instruct while effectively integrating multiple weapons systems across the land, air, space and cyber domains.

Upon graduation, the new weapons officers return to the field to serve as unit weapons and tactics officers, leading combat missions and providing our Service's senior leaders and decision makers tactical, operational and strategic impact support.
In the air on the way to the jump: check out the stunning full-sized version of this image by clicking on it.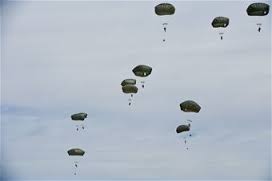 Joint Forcible Entry Exercise