World War II veteran paratrooper PFC Jim "Pee Wee" Martin, who jumped into Normandy on D-Day in 1944, will attempt to parachute in again this year at the tender age of 93.
"When we made our initial jump into France, there were a few cirrus clouds up above, just enough so you still saw shadows down below," Martin told the Army News Service recently at the National Museum of the U.S. Air Force in Dayton, Ohio. "It was just unbelievable to see as many ships as there were down there," he said.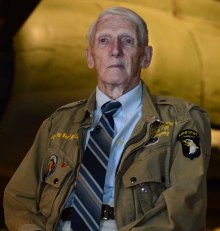 Martin said he hopes to leap from the skies again during the anniversary.
"I truly would want to do that one, because there's no other 93-year-old guy in the unit who can do it but me." — Jim "Pee Wee" Martin
Vital Role in D-Day
"We knew that the success was going to hinge on us. We were absolutely certain of that. Eisenhower was too, that's why he made the decision to send us in, even though all the others didn't want to," Martin said.
Martin said he "never had a doubt about the success of the mission," but had concern about what the human cost would be. "I knew it was going to be bad," he said. He and his unit were among the first wave of paratroopers to jump into Normandy. They later jumped into Holland in "Operation Market Garden," were among the defenders of Bastogne, during the Battle of the Bulge, and captured Adolph Hitler's mountain retreat in Bavaria at the end of the war.
"Don't let anybody tell you that he wasn't scared going in to any combat, whether it was us or others." — Jim "Pee Wee" Martin
Serving America is how we get to Keep America
Serving one's country, he said, is part of the duty of living in a free nation. "I don't consider it a sacrifice. A lot of people said it was a sacrifice. It's not a sacrifice. It's a duty that you're obligated to do," he said.
"If you live in a free country, whether you agree with what they do, if you're called, you should go and do your very best." — Jim "Pee Wee" Martin
Martin is proud of the men and women who serve the nation today. What advice does he have for the fighting generation: "Go in there and do the best you can. Be thankful that you have a country that will back you with materiel." Much of the material in this article was quoted from the US Army write-up here.
Martin also has an amazing collection of photos from World War II. Click on the image below to go to his Flickr page.
Follow @LHeal on Twitter.