For this Independence Day I wanted to take the time to look at what the 4th of July actually means to me.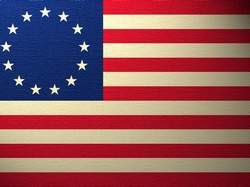 About 10 or 11 years ago I did quite a bit of genealogical research into my family. I was fortunate enough to be able to go to the United States National Archives, in Washington D.C. and retrieve quite a few documents related to my family's past. One of the reasons I went in particular was to find a member of my family who came to the United States during the Revolutionary War. His name was John Waggoner. He arrived in Baltimore Maryland in 1774, and then, in 1777, in Reading Township, Pennsylvania, he enlisted in Capt. Von Heer's Horse Company and served as one of Gen. George Washington's guards. He served through the course of the Revolutionary War and eventually ended up in Sandusky County, Ohio, where he is buried.
Being able to go back and look at the documents from the 1700s and 1800s, that were written by people long gone, about my founding father was very humbling. Many spoke of his service to the country, some spoke of his honesty, some of them spoke of his integrity, but all spoke well of him. I was actually able to get a copy of his Revolutionary War pension paper, and copied his entire file. I keep it hidden away as one of my most loved keepsakes.
Knowing that one of my ancestors had even a small part in the founding of this great country, and truly played a part of our independence makes the 4th of July, our Independence Day, very special for me. Sometimes looking back at what people have done in the past makes a difference in how you look at things in the present and future. The journey of finding and gathering the information on my ancestor was truly inspiring.
This Independence Day I hope that we all look back at our past to the brave souls that stood up for what they believed in, and some who gave their all for our freedoms that we so easily take for granted in these times of instant gratification and plenty. I'm glad I dug out and looked at John Waggoner's Revolutionary War papers again, as they reminded me of how long ago our fathers were forging this country with their sweat and blood.
I hope that you all have a great 4th of July and enjoy time with family and friends being free and independent. And as you set off or watch fireworks, think back to a time when the fireworks were guns and cannons and they were forging our country with each flash. I will wonder, probably more than once, what it was like to be John Waggoner. Did he ever imagine that his ancestor many generations removed would be enjoying such prosperity and freedom as we do today? God bless you and your family.
Chris Wagoner is Owner/Moderator of YouTube's Largest Military Videos Channel – 3rdID8487 and the US Military page on Facebook.