Bowe Bergdahl left the American position of his own accord and sought out the Taliban, according to accounts by two soldiers in his unit. Rather than dwell on Bergdahl's story, let's look at the more important ones — the men who didn't come back. You can read one account at Tea Party News Network.
Upon realizing Bergdahl was missing, all combat operations in Afghanistan were halted and efforts put into searching for the missing soldier. Bergdahl was classified as MIA instead of AWOL so that the military did not have to explain the details regarding either Bergdahl or the events surrounding his disappearance.
The Daily Beast has another account.
Though the 2009 Afghan presidential election slowed the search for Bergdahl, it did not stop it. Our battalion suffered six fatalities in a three-week period. On August 18, an IED killed Private First Class Morris Walker and Staff Sergeant Clayton Bowen during a reconnaissance mission. On August 26, while conducting a search for a Taliban shadow sub-governor supposedly affiliated with Bergdahl's captors, Staff Sergeant Kurt Curtisswas shot in the face and killed. On September 4, during a patrol to a village near the area in which Bergdahl vanished, an insurgent ambush killed Second Lieutenant Darryn Andrews and gravely wounded Private First Class Matthew Martinek, who died of his wounds a week later. On September 5, while conducting a foot movement toward a village also thought affiliated with Bergdahl's captors, Staff Sergeant Michael Murphrey stepped on an improvised land mine. He died the next day.
"It was supposed to be a 4-day mission but turned into several months of active searching. Everyone was spun up to find this guy."
And another: "It was supposed to be a 4-day mission but turned into several months of active searching. Everyone was spun up to find this guy."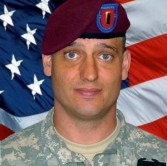 Army 2nd Lt. Darryn D. Andrews, 34, of Dallas … was killed Sept 4, 2009 in Yahya Khail District, Afghanistan of wounds suffered when enemy forces attacked his vehicle with an improvised explosive device and a rocket-propelled grenade. He died serving during Operation Enduring Freedom.
The Texas Legislature awarded Texas Tech alumnus Andrews the Legislative Medal of Honor Given out only once every two years, it is the highest military decoration that may be awarded to a member of the Texas Military Forces.
Staff Sgt Bowen was assigned to the 1st Battalion, 501st Parachute Infantry Regiment, 4th Airborne Brigade Combat Team, 25th Infantry Division, Fort Richards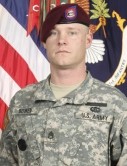 on, Alaska. He was riding in a humvee with four other soldiers to provide security for Afghanistan's presidential election when it hit an IED. Clayton graduated from Churchill High School and joined the Army in 1998 at the age of 17. He was a member of the 82nd Airborne All American Chorus where he sang bass, and served as a drill sergeant and a shooting instructor b efore being deployed to Afghanistan in February. Clayton was to return home on leave in September and be home for his 30th birthday. He was the recipient of the Purple Heart and Bronze Star.
A paratrooper from Fort Ri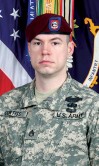 chardson died in the Sar Howzeh District of Paktika Province in Afghanistan Aug. 26.
Staff Sgt. Kurt R. Curtiss, 27, of Murray, Utah, was killed by small arms fire while his unit was supporting Afghanistan security forces. No other Soldiers were injured in the incident.
A paratrooper from Fort Richardson who was one of six Soldiers wounded in Paktika Province, Afghanistan, on Sept. 4 succumbed to his wounds Sept. 11.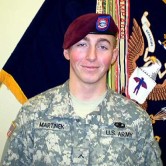 Pfc. Matthew M. Martinek, 20, from Dekalb, Ill., was a member of a mounted patrol when their vehicle was disabled by an improvised explosive device.
When the six Soldiers and their lieutenant dismounted to secure the vehicle, it was hit by a rocket propelled grenade which killed 2nd Lt. Darryn Andrews and wounded the other Soldiers.
All the Soldiers were assigned to B Company, 1st Battalion, 501st Parachute Infantry Regiment, 4th Brigade Combat Team (Airborne), 25th Infantry Division, from Fort Richardson.
Martinek joined the Army in March 2008, arrived in Alaska in September 2008 and deployed to Afghanistan in March.
Staff Sgt. Michael Chance Murphrey 25, of Snyder, was killed in action Sunday September 6, 2009 in Afghanistan.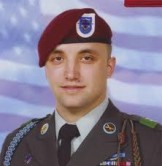 Staff Sgt. Murphrey was born May 19, 1984 in Dallas, Texas to Elvie and Evelyn (Littlejohn) Murphrey. He attended Clyde Elementary. He was a graduate of Snyder High School. He married Ashley Martin on April 22, 2005 in Metter, Georgia. He was an active duty Service Member of the United States Army and was stationed at Fort Richardson in Alaska after being stationed at Fort Bragg in North Carolina.
He is survived by his wife, Ashley Martin Murphrey of Cobbtown, Georgia; two children, son Jaden Murphrey and daughter Cameron Murphrey; parents, Elvie and Evelyn (Littlejohn) Murphrey of Clyde; maternal grandmother, Lillie Littlejohn of Alvarado; four sisters, Jeanie Rutherford and husband Adam of Clyde, Wendy Stehouwer and husband Ryan of Waxahachie, Pearl McKay and husband BJ of Sweetwater, and Krisa Johnson and husband Rocky of Colorado Springs, Colorado; and several nieces and nephews.
"Michael was the love of my life and my best friend. We spent as much time together as we could when Michael was home. He loved his job. He had re-enlisted and then we were sent to Ft. Richardson, Alaska. We looked at that as an adventure. Little did we know that he would be deployed for the third time 1 year after we got there. Michael had been on two tours to Iraq. He somehow knew that the deployment to Afghanistan would be different. Our children were 4 and 3 months when Michael was deployed. Michael came home for two weeks R & R in August 2009. He was still grieving the loss of a dear friend and brother who had been killed 5 weeks earlier while they were on a mission. Michael had seen him die."
Died August 18, 2009. 23, of Chapel Hill, N.C.; assigned to the 1st Battalion, 501st Parachute Infantry Regiment, 4th Airborne Brigade Combat Team, 25th Infantry Division, Fort Richardson, Alaska; died Aug. 18 in Dila, Afghanistan, of wounds sustained when an improvised explosive device detonated near his vehicle. Also killed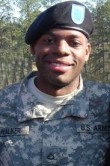 was Staff Sgt. Clayton P. Bowen.
(AP) Morris L. Walker was like "a ray of sunshine," an incurable optimist as easygoing around adults as he was teenage pals.
"What I think of first when I think of Morris is his smile because he was always smiling," said Wanda Bordone, who taught him seventh- and eighth-grade English at Fayetteville Academy in North Carolina. "He had a great sense of humor, lots of friends."
Walker, 23, of Fayetteville, N.C., was killed Aug. 18 by a roadside bomb in Paktika province, Afghanistan. He graduated from the University of North Carolina at Chapel Hill in 2008 and was assigned to Fort Rich.
He was on the varsity basketball team, served as student government treasurer and worked with a community service club at his high school.
"He didn't have to be a star of anything," said Barbara Lambert, his guidance counselor. "He just wanted to be a participant."
Another guidance counselor, Pam Little, said Walker approached life with an unusual serenity.
"He had a peace about him that I find to be extremely rare in someone in high school," she said. "He was always an optimist."
Carry on, brothers.