ISIS, the Islamic State of Iraq and Al-Sharma, sentenced to death and crucifixion a checkpoint guard who had extorted money from refugees. The Syrian Observatory for Human Rights said the man was killed by three bullets to the head in the northern part of the Aleppo province.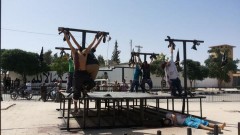 According to Al Arabiya, web sites showed photos of the execution and signs reading,
"Guilty: Abu Adnan al-Anadali. Sentence: execution and three days of crucifixion. Motive: extorting money at checkpoints by accusing drivers of apostasy."
The sign is inscribed by "The prince of believers", which usually means ISIS warlord Abu Baqr al-Baghdadi.
ISIS crucifies Christians and Muslims alike, using crucifixion as a means of instilling fear in Christians and as an added sign of degradation to Muslims.
In June, ISIS swept into the city of Mosul in Iraq, displaying on various web sites gruesome photos of mass executions. The group then released video of its own war crimes.
The government of Iraq had asked for US bomb strikes on this group, but the Obama administration refused.
The US has sent warships into the Persian Gulf, and the President Obama reportedly wants $500 million to fund "moderate" Syrian rebels to oppose ISIS. The Syrian rebels are organized to fight the Assad regime, however, and not the ISIS group waging war against Iraq.