An Iraqi Shiite Muslim cleric sent out a call to arms and thousands of Iraqis are responding to it following the wholesale slaughter of civilians by the Sunni Islamic State of Iraq and Syria (ISIS). Graphic photos emerged Sunday of ISIS rounding up young men opposed to the takeover of Iraq by the Sunni group and slaughtering them in shallow, mass graves, spurring a backlash against ISIS.
According Marine Times, the surge had begun even as ISIS was overtaking Mosul:
Thousands of Shiites from Baghdad and across southern Iraq answered an urgent call to arms Saturday, joining security forces to fight the Islamic militants who have captured large swaths of territory north of the capital and now imperil a city with a much-revered religious shrine.
The mobilization, urged by the nation's top Shiite cleric, took on a sectarian dimension that threatened to intensify Sunni-Shiite strife in a nation already ripped by religious fervor after the militants' battlefield successes.
Iraqi Prime Minister Nouri al-Maliki said the young nation would defeat the ISIS terrorists operating freely northwest of Baghdad.
The Iraqi Army, meanwhile, claimed that government forces have regained their momentum, after a string of recent defeats.
Fighting continued Saturday in scattered regions north of Baghdad, with conflicting reports over which side– forces loyal to Maliki's government, or a mix of Sunni Islamist militant groups– had the upper hand.
A blog posting by ISIS attempting to depict the glories of their capture of Mosul and territory in the Salahaddin area of Northern Iraq also revealed that the group had rounded up Iraqis opposed to the takeover and simply killed them.
ISIS stressed in the photos that the young men slaughtered were found wearing Iraqi military camouflaged utility uniforms.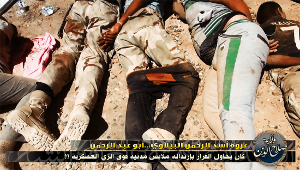 The killing of defenseless captives is a war crime under international conventions, no matter if they are in uniform or not.
Hundreds of Iraqis were rounded up, according to ISIS, put on trucks, forced into mass graves and slaughtered there.
The AP and other sources have said they can't independently verify that the photographs were not staged, but they are consistent with known events.
Iraqis were rounded up in trucks.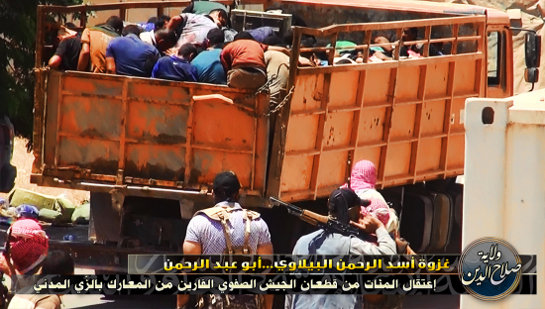 Here ISIS brags about shooting these men, not in uniform, and obviously defenseless.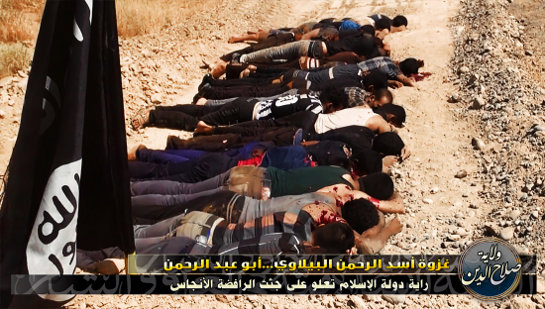 Follow American Military News on Twitter: @AmerMilNews