Over a decade after deciding to replace the presidential helicopter fleet, and five years after cancelling the contract for the current fleet of presidential helicopters, the Navy has awarded Sikorsky a $1.2 billion contract to deliver two test units and four production models for a total of six aircraft:
In addition to the six aircraft to be delivered to the US Marine Corps, Sikorsky will also deliver two simulators, says the company.
Two of the six aircraft will be engineering development models (EDMs), which will be used by military personnel at NAS Patuxent River in Maryland to test the aircraft's flight performance and mission communications systems, says Sikorsky.
Those aircraft will be delivered in 2018 under the terms of the contract.
The remaining four aircraft, called system demonstration test articles (SDTAs), will be used for operational tests before being transitioned to operational status, says the company.
Sikorsky expects the USN to eventually order 17 production aircraft, with the first of three orders for those aircraft coming by early 2019. Sikorsky says it will likely delivery those production rotorcraft by 2023.
Sikorsky S-92 series is a commercial helicopter in production. Sikorsky will subcontract to Lockheed Martin to deliver communications equipment deemed necessary for presidential access.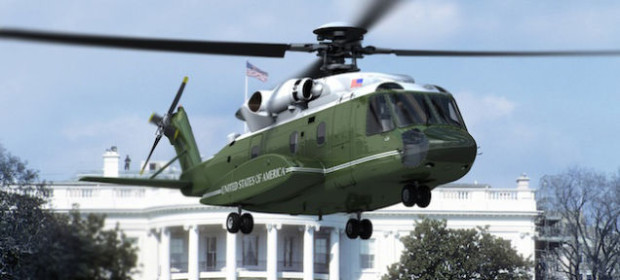 Initially, two helicopters will be used for testing.
According to the Navy,
The U.S. Marine Corps currently operates eleven VH-3D and eight VH-60N helicopters; the VH-3Ds were originally placed in service in 1974, and the VH-60s entered service in the 1980s.
Via Gizmodo.