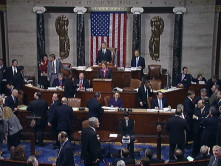 On a vote of 390-33, the House passed bill H.R. 4031, , Department of Veterans Affairs Management Accountability Act of 2014., Wednesday evening.
H.R. 4031 gives the Secretary of Veterans Affairs authority to remove an employee of the Senior Executive Service if the Secretary determines that the employee's performance warrants removal. The Secretary can remove the individual from federal service entirely, or transfer him to a General Schedule position within the civil service system. Within thirty days of removing the individual, the Secretary must notify the House and Senate Committees on Veterans' Affairs of the removal and the reason for it. H.R. 4031 provides that the employee's removal shall be done in the same manner as the removal of a professional staff member of a Member of Congress.
J Beckett Adams of The Blaze network tweeted:
Here's a more informative breakdown of the 33 House "nay" votes: pic.twitter.com/nT0N3skldL

— T. Becket Adams (@BecketAdams) May 21, 2014
Reaction
"I support this bill," said longtime VA watcher Ric Davidge. "This is not just a personnel issue – it is a VA culture issue. That requires clear headed 'management' across the entire superstructure of the VA – not just in the Secretary's office."
In the Senate, companion bill S. 2031 is currently waiting action in the Committee on Veterans' Affairs.