In every case, Gitmo detainees receive medical care that is as good as or better than anything we would offer our own soldiers, sailors, airmen or Marines.
Detainees at Naval Station Guantanamo Bay, Cuba, get better health care than American troops, and far better treatment than the veterans who were injured fighting them. But that's not because the VA needs more people or resources. The problem with the VA is the bureaucratic culture that is inescapable in government-run health care systems.
At Guantanamo Bay ("Gitmo"), the ratio of prisoner to medical care staff 1.5:1, according to Cdr J.D. Gordon, (USN-Ret), Bush-era Pentagon spokesman.
Despite the fact that Al Qaeda terrorists carried out the Sept. 11 terror attacks, killing 3,000 people in America, the admitted co-conspirators and their roughly 150 fellow jihadists at Gitmo have approximately 100 doctors, nurses and health care personnel assigned to them.
Doctors and medical personnel are at their beck and call. Got a cold, a fever, a toothache, a tumor, chest or back pain, mental health issues, PTSD? No problem, come right on in. Military doctors are waiting to see you.
The VA and Gitmo eligible patient-to-health care provider ratios speak volumes.
While the Gitmo ratio is 1.5 to 1, for America's 9 million veterans receiving VA health care and 267,930 VA employees, the ratio is 35 to 1.
Gordon appears to agree that the trouble with the number of VA staff is not that there aren't enough staff to handle the load, it's the organization of those staff. Adding people to a bureaucracy and giving it more money doesn't make it work faster or better, it makes it slower and less efficient. At Gitmo a relatively small number (100 or so) medical staff under military discipline can work wonders. Put 10,000 staff there, and we'd be hearing about patients dying on phony waiting lists.
Instead the detainees are treated like prized athletes. In 2005, Armed Forces Press said,
In every case, enemy combatants held here receive medical care that is "as good as or better than anything we would offer our own soldiers, sailors, airmen or Marines," the general in charge of the U.S. detention facility here said.
Army Brig Gen. Jay Hood, commander of Joint task Force Guantanamo, said medical personnel at the detainee hospital here have helped detainees recover from "some very significant war wounds."
Active-duty U.S. Navy medical personnel care for detainees as both inpatients and outpatients from a dedicated facility at Camp Delta, the main detainee- holding facility here. Most routine medical care is administered by corpsmen who visit each cellblock every two days or whenever a detainee requests care.
More serious health concerns among detainees are treated at the small, state- of-the-art medical facility dedicated to their care. A senior administrator at the facility called it "equivalent to a community acute-care hospital."
The facility is equipped with 19 inpatient beds (and can expand to 28), a physical-therapy area, pharmacy, radiology department, central sterilization area, and a single-bed operating room. More complex surgeries can be performed at the base naval hospital, which also is equipped with an intensive-care wing.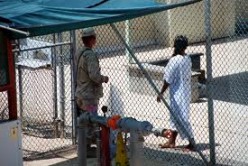 The military must care well for its adversaries, if only for public relations purposes and winning the hearts and minds of the enemy's people — and not giving them anything around which to rally. Despite that very effort by thousands of American military and civilian health care personnel over the last decade, politicians, terrorist supporters and peace-at-all-costs activists still shout "Torture!" The fact that detainees are treated better than the Marines who guard them seems to slide past as they look for any way to stop America's military from defending freedom.
We can possibly care for vets as well as we care for Al Qaeda. All it would take is militarizing our VA hospitals and locking down our vets in high-security detention facilities. Somehow, that doesn't seem like a fair trade.
It would be better to reform the VA from top to bottom, even privatizing care for all but the most debilitated.
While we're at it, perhaps we should make the Gitmo detainees buy health insurance on healthcare.gov.
There I go, advocating torture.