In 2013, the United States cut military spending by 7.8%, but many other countries, including two of the United States' biggest competitors, increased military spending. Russia and China have substantially increased their military spending. Russia has increased their spending by 4.8%, while China has increased their military spending by 7.4% spending. The United States is trying to cut military spending even more as part of next year's budget. Overall, global military spending has decreased by 1.9%. As the debate in Congress on the military spending cuts heats up, some in congress will most likely use the growth of China and Russia's military to demonstrate we should not cut military spending.
______________
Global military spending dropped by nearly two percent in 2013, led by the United States which dropped it's spending by 7.8 percent.
By contrast, the military industrial complexes in Russia and China are bustling; seeing a 4.8 and 7.4 percent increase, respectively.
The U.S. dropped spending from roughly $690 Billion in 2012, to $640 Billion in 2013, shrinking to 3.8 percent of the Gross Domestic Product.
The reduction is noted in real terms, which means the calculations – made by the Stockholm International Peace Research Institute – are adjusted for inflation.
Global military expenditure fell by 1.9 percent, to $1747 billion. It was the second consecutive year spending fell, and 2013 saw the higher rate of decrease, by 0.4 percent compared to 2012.
"A part of the fall ($20 billion of the $44 billion nominal fall) can be attributed to the reduction in outlays for Overseas Contingency Operations — that is, overseas military operations, chiefly in Afghanistan and Iraq," the SIPRI report reads.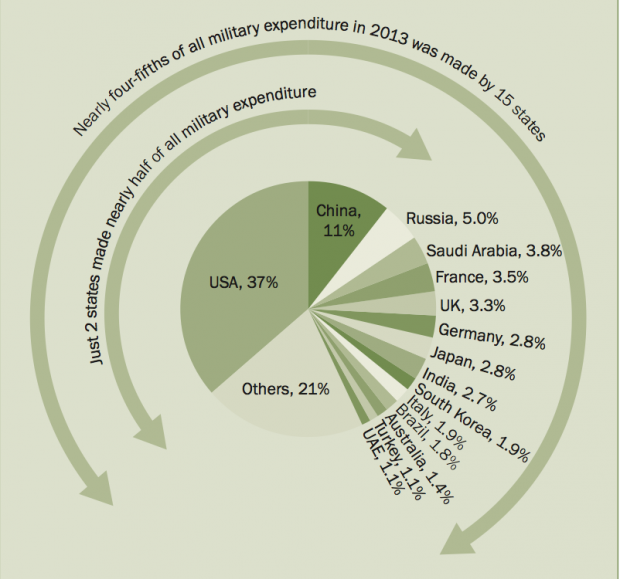 For the first time since 2003, Russia spent a larger percentage of it's Gross Domestic Product on military expenses than the United States.
"Russia's spending has risen as it continues to implement the State Armaments Plan for 2011–20, under which it plans to spend 20.7 trillion roubles ($705 billion) on new and upgraded armaments. The goal is to replace 70 per cent of equipment with 'modern' weapons by 2020," states the report.