The Air Force Academy controversy continues to grow circling around the use of the word God in its mission statement.
Now a billboard has popped up outside the school demanding God be taken out of it.
What do you think?
See the billboard here: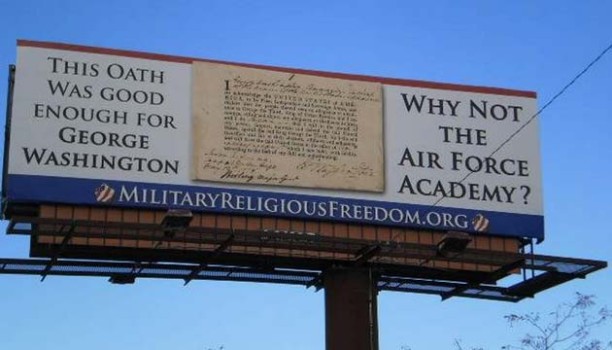 ______________________
new billboard near the Air Force Academy is urging the academy to drop the words "so help me God" completely from its honor oath.
The Military Religious Freedom Foundation, an organization that advocates for the separation of church and state in the military, had the billboard erected Nov. 6 at the corner of North Nevada Avenue and Garden of the Gods Road in Colorado Springs, a few miles from the academy.
The billboard features an image of the officer's oath signed by George Washington at Valley Forge in 1778, in which he pledges his loyalty to the United States against King George III, but does not contain an oath to a deity. The billboard reads, "This oath was good enough for George Washington. Why not the Air Force Academy?"
After MRFF President Mikey Weinstein in October objected to the inclusion of the phrase "so help me God" in the academy's honor oath, the academy decided to make reciting that part optional. But Weinstein said that by not completely excising the clause, the oath still violates the Constitution's guarantee that no one shall be subjected to a religious test to hold a public office.
"It was pretty obvious the Air Force Academy was going to continue in its noxiously unconstitutional way of including 'so help me God,'" Weinstein said. "It's something that is completely illegal and unlawful. It marginalizes, it dehumanizes, it offends and it tramples on the essence of the Constitution."
The academy had no comment on the billboard.
"The cadet honor oath remains unchanged," academy spokesman Maj. Brus Vidal said. "However, in the spirit enabling all to be true to their beliefs, the Air Force's academy made the final clause optional. Cadets can choose to say that final clause or not."
Vidal also said "it seems the MRFF is confusing the facts and also does not understand the difference between the commissioning oath of office, the cadet honor code, and the cadet honor oath, which remains unchanged."
Weinstein had harsh words for Academy Superintendent Lt. Gen. Michelle Johnson's decision not to completely remove the clause.
"She is the fourth superintendent we've met with [since MRFF was founded in 2004], and she seems to be the worst of all" in terms of her willingness to engage MRFF on their concerns, Weinstein said.