This Tuesday marked the 216th week that Sergeant Bowe Bergdahl has been held captive by Taliban forces. When a meme marking the occasion appeared on our American Military Facebook page this week (www.facebook.com/AmericanMilitary) it became clear that many didn't know his story and what was being done to find him.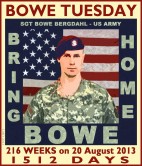 Sergeant Bowe (Then Pfc Bergdahl) was captured by Taliban-aligned Afghanistan Haqqani network in June of 2009. The specifics of his capture vary drastically and no one account has been completely confirmed. However, what is known is who is holding him captive and that he is still alive.
He has appeared in several propaganda videos since he has been captive and there have been several attempts by the U.S. government to secure his release. Unfortunately due to his unknown location in Pakistan and the steep demands made by his captors, every attempt at a deal has fallen through. Obama administration officials reportedly are now becoming more pessimistic; not seeing a window for release until the NATO withdrawal in 2014.
However, there have been reports that Bergdahl may have been flipped and is currently helping train Taliban troops in bomb making and infantry tactics. While none of this is confirmed, it has been the source of much confusion in the military community.
The last anyone has heard from Sergeant Bergdahl was in June of this year when the Red Cross delivered a letter to his family written by him.
We have put his full, unabridged story below, as it appears on his support website
___________
Bowe Robert Bergdahl (born March 28, 1986 in Sun Valley, Idaho) is a soldier, who is currently in the captivity of the Taliban supporting Haqqani network, since June 2009.
Military status and disappearance
Bergdahl is assigned to the 1st Battalion, 501st Infantry Regiment, 4th Brigade Combat Team, 25th Infantry Division, based at Fort Richardson, Alaska.[4] He went missing on June 30, 2009. Since then, the Taliban has released five videos showing him in captivity. The Taliban have demanded $1 million[5] and the release of 21 Afghan prisoners and Aafia Siddiqui in exchange for Bergdahl's release. They have threatened to execute Bergdahl if Siddiqui is not released. Most of the Afghan prisoners are being held at Guantanamo Bay.
At the time of his capture, Bergdahl's rank was that of Private First Class (E-3). In June 2010, he was promoted to Specialist (E-4) during his absence. On June 17, 2011 he was promoted to the rank of Sergeant (E-5)
Capture
On July 18, 2009, the Taliban released a video showing they had captured Bergdahl. In the video, Bergdahl appeared downcast and frightened. A Department of Defense statement issued on July 19 confirmed that Bergdahl was declared "missing/whereabouts unknown" on July 1, and his status was changed to "missing/captured" on July 3.
In the 28-minute video his captors hold up his dog tags to establish the captured man is Bergdahl. Bergdahl gives the date as July 14 and mentions an attack which occurred that day.
Accounts of his capture differ. The version offered by Bergdahl, in the video, is that he was captured when he fell behind on a patrol. CNN, in its report, cites both Taliban and U.S. military sources, the former (Taliban) alleging he was ambushed after becoming drunk off base, and the latter (U.S. military) denying that claim stating: "The Taliban are known for lying and what they are claiming (is) not true."
A Department of Defense spokesperson, Lieutenant Commander Christine Sidenstricker, said, "I'm glad to see he appears unharmed, but again, this is a Taliban propaganda video. They are exploiting the soldier in violation of international law."
According to the Associated Press, General Nabi Mullakheil of the Afghan National Police said the capture occurred in Paktika Province. Their other sources inform them that he was captured by a Taliban group led by Maulvi Sangin, who has moved him to Ghazni Province. The Guardian quoted sources who speculated about the increased difficulty of a rescue mission if Bergdahl had been smuggled across the nearby border into Pakistan.
The Associated Press also quoted Zabiullah Mujahid, a Taliban spokesman, as saying: "the militants holding the soldier haven't yet set any conditions for his release."
CNN described two Pashto-language leaflets the U.S. military was distributing in seeking Bergdahl. One showed a smiling GI shaking hands with Afghan children, with a caption that called him a guest in Afghanistan. The other showed a door being broken down, and threatened that those holding Bergdahl would be hunted down.
In December 2009, five months after Bergdahl's disappearance, the media arm of the Afghan Taliban announced the release of a new video of "a U.S. soldier captured in Afghanistan," titled "One of Their People Testified." In the announcement the Taliban did not name the American, but the only U.S. soldier known to be in captivity is Bergdahl.
U.S. military officials have been searching for Bergdahl, but it is not publicly known whether he is even being held in Afghanistan or in neighboring Pakistan, an area off-limits to U.S. forces based in Afghanistan.
On December 25, another video was released that features Bergdahl in a combat uniform and helmet. He describes his place of birth, deployment to Afghanistan and subsequent capture. He then makes several statements regarding his humane treatment by his captors, contrasting this to the abuses suffered by insurgents in prisons. He finishes by saying that America should not be in Afghanistan and that it is just another Vietnam.
On April 7, 2010, the Taliban released a third video of Bergdahl, now with a full head of hair and a beard, pleading for the release of Afghan prisoners held at Guantanamo and Bagram.
In November 2010, Bergdahl appeared briefly in a fourth video.
In May 2011, Bergdahl appeared briefly in a fifth video.
Threat of reprisal
On February 4, 2010, the Afghan Taliban demanded the release of Aafia Siddiqui, a Pakistani scientist who was convicted by a U.S. court on charges of attempting to murder U.S. soldiers in Afghanistan, and threatened to execute Bergdahl if their demand was not met. The Taliban claimed that members of Siddiqui's family had requested their assistance.
Reports of joining the Taliban
Fox News reported that the Taliban and Afghanistan Intelligence indicated that Bergdahl was helping to train the Taliban in bomb making and infantry tactics. The Pentagon dismissed the reports as Taliban propaganda.