In what may begin to be a regular feature on American Military News, we wanted to share with you stories of men who were so badass that it will blow your mind. We're talking incredible acts of courage and tenacity that for many would be unthinkable, but for our troops, comes naturally.
Here are today's three badass vets.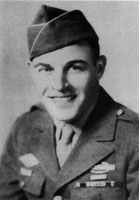 Name: Private First Class Dirk Vlug
Conflict: World War II
Story (From his Medal of Honor citation): "Loading single-handedly, he destroyed the first tank, killing its occupants with a single round. As the crew of the second tank started to dismount and attack him, he killed 1 of the foe with his pistol, forcing the survivors to return to their vehicle, which he then destroyed with a second round. Three more hostile tanks moved up the road, so he flanked the first and eliminated it, and then, despite a hail of enemy fire, pressed forward again to destroy another. With his last round of ammunition he struck the remaining vehicle, causing it to crash down a steep embankment. Through his sustained heroism in the face of superior forces, Pfc. Vlug alone destroyed 5 enemy tanks and greatly facilitated successful accomplishment of his battalion's mission."
Name: Lt. Brian Chontosh
Conflict: Operation Iraqi Freedom
Story: "Without hesitation, First Lieutenant Chontosh ordered the driver to advance directly at the enemy position enabling his .50 caliber machine gunner to silence the enemy. He then directed his driver into the enemy trench, where he exited his vehicle and began to clear the trench with an M16A2 service rifle and 9 millimeter pistol. His ammunition depleted, First Lieutenant Chontosh, with complete disregard for his safety, twice picked up discarded enemy rifles and continued his ferocious attack. When a Marine following him found an enemy rocket propelled grenade launcher, First Lieutenant Chontosh used it to destroy yet another group of enemy soldiers. When his audacious attack ended, he had cleared over 200 meters of the enemy trench, killing more than 20 enemy soldiers and wounding several others. By his outstanding display of decisive leadership, unlimited courage in the face of heavy enemy fire, and utmost devotion to duty, First Lieutenant Chontosh reflected great credit upon himself and upheld the highest traditions of the Marine Corps and the United States Naval Service."
Name: Sgt. David B. Bleak
Conflict: Korean War
Story (From His Medal Of Honor citation): Sgt. Bleak, a member of the medical company, distinguished himself with conspicuous gallantry and indomitable courage above and beyond the call to action against the enemy. As a medical aidman, he volunteered to accompany a reconnaissance patrol committed to engage the enemy and capture a prisoner for interrogation. Forging up the rugged slope of the key terrain, the group was subjected to intense automatic weapons and small arms fire and suffered several casualties. After administering to the wounded, he continued to advance with the patrol. Nearing the military crest of the hill, while attempting to cross the fire-swept area to attend the wounded, he came under hostile fire from a small group of the enemy concealed in a trench. Entering the trench he closed with the enemy, killed 2 with bare hands and a third with his trench knife. Moving from the emplacement, he saw a concussion grenade fall in front of a companion and, quickly shifting his position, shielded the man from the impact of the blast. Later, while ministering to the wounded, he was struck by a hostile bullet but, despite the wound, he undertook to evacuate a wounded comrade. As he moved down the hill with his heavy burden, he was attacked by 2 enemy soldiers with fixed bayonets. Closing with the aggressors, he grabbed them and smacked their heads together, then carried his helpless comrade down the hill to safety. Sgt. Bleak's dauntless courage and intrepid actions reflect utmost credit upon himself and are in keeping with the honored traditions of the military service.
Read More At Bro Bible