How North Korean Leader Kim Jong Un, 33, Became One Of The World's Scariest Dictators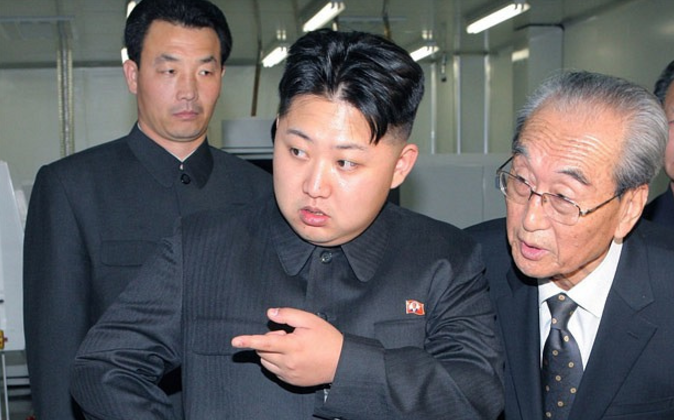 (Zennie Abraham/Flickr)
For the past 50 years, the world has grown used to crazy threats from North Korea that don't lead anywhere.
But the threats have taken a decidedly sharper and more ominous tone under Kim Jong Un, the third supreme leader of the hermit kingdom.
North Korea has carried out five nuclear tests under his rule. And on Sunday, the secretive regime attempted to fire a missile. It blew up within seconds.
With all this attention, still relatively little is known of Kim. Here's what we do know of how he grew to be one of the world's scariest dictators:
Kim Jong Un was born on January 8 — 1982, 1983, or 1984.
His parents were future North Korean dictator Kim Jong Il and his consort, Ko Young Hee. He had an older brother named Kim Jong Chul and would later have a younger sister named Kim Yo Jong.
While Kim Jong Un's official birth year is 1982, various reports suggest that the year was changed for symbolic reasons, including that it was 70 years after the birth of Kim Il Sung and 40 years after the birth of Kim Jong Il.
However, a recent move by the US Treasury Department to sanction Kim Jong Un listed his official date of birth as January 8, 1984.
Jong Un — here with his mother — lived at home as a child.
During this period, North Korea was ruled by "Great Leader" Kim Il Sung. While Kim Jong Il was the heir apparent, Kim Jong Un's path to command was far less certain.
Then it was off to Switzerland to attend boarding school.
Called "Pak Un" and described as the son of an employee of the North Korean embassy, Kim Jong Un is thought to have attended an English-language international school in Gümligen near Bern.
Kim Jong Un is described by former classmates as a quiet student who spent most of his time at home, but he had a sense of humor, too.
"He was funny," former classmate Marco Imhof told The Mirror. "Always good for a laugh."
"He had a sense of humor; got on well with everyone, even those pupils who came from countries that were enemies of North Korea," another former classmate told the German newspaper Welt am Sonntag. "Politics was a taboo subject at school … we would argue about football, not politics."
Kim Jong Un loved basketball and idolized Michael Jordan.
The young Korean reportedly had posters of Jordan all over his walls during his Swiss school days. Although Kim Jong Un was overweight and only 5-6, he was a decent basketball player.
"He was a fiercely competitive player, very explosive," former classmate Nikola Kovacevic told The Mirror. "He was the play maker. He made things happen."
"He hated to lose. Winning was very important," said former classmate Marco Imhof.
He also had a "fantastic" collection of Nike sneakers.
After school in Switzerland, he returned home for military schooling.
Upon his return to North Korea, Kim Jong Un attended Kim Il Sung Military University with his older brother. Some reports say they started to attend their father's military field inspections around 2007.
While his father faced death, Kim Jong Un was rapidly promoted up the chain of political and military leadership, despite having little experience in either.
He was made a four-star general, deputy chairman of the Central Military Commission of the Workers' Party, and a member of the Central Committee, according to the BBC.
Kim Jong Un has a theme song known as "Footsteps."
"Footsteps" looks and sounds like a propaganda song from the Soviet Union.
The song calls people to follow in "Our Admiral Kim's footsteps." Here's a sampling of the lyrics:
Footsteps, Footsteps … spreading out further the sound of a brilliant future ahead … tramp, tramp, tramp, ah, footsteps.
Many North Koreans see Kim Jong Un as a youthful version of "Great Leader" Kim Il Sung.
Kim bears a clear resemblance to his grandfather, Kim Il Sung, in appearance, haircut, and mannerisms.
Rumors had circulated that Kim Jong Un had received plastic surgery to enhance the resemblance even further, although the North finally responded and called the allegations "sordid hackwork by rubbish media."
"The false report … released by enemies is a hideous criminal act which the party, state, army and people can never tolerate," said the official Korean Central News Agency.
After his father died, Kim Jong Un was quickly declared "Supreme Leader" of North Korea.