Red Sox & Yankees Submit Bid To Host 2018 Army-Navy Game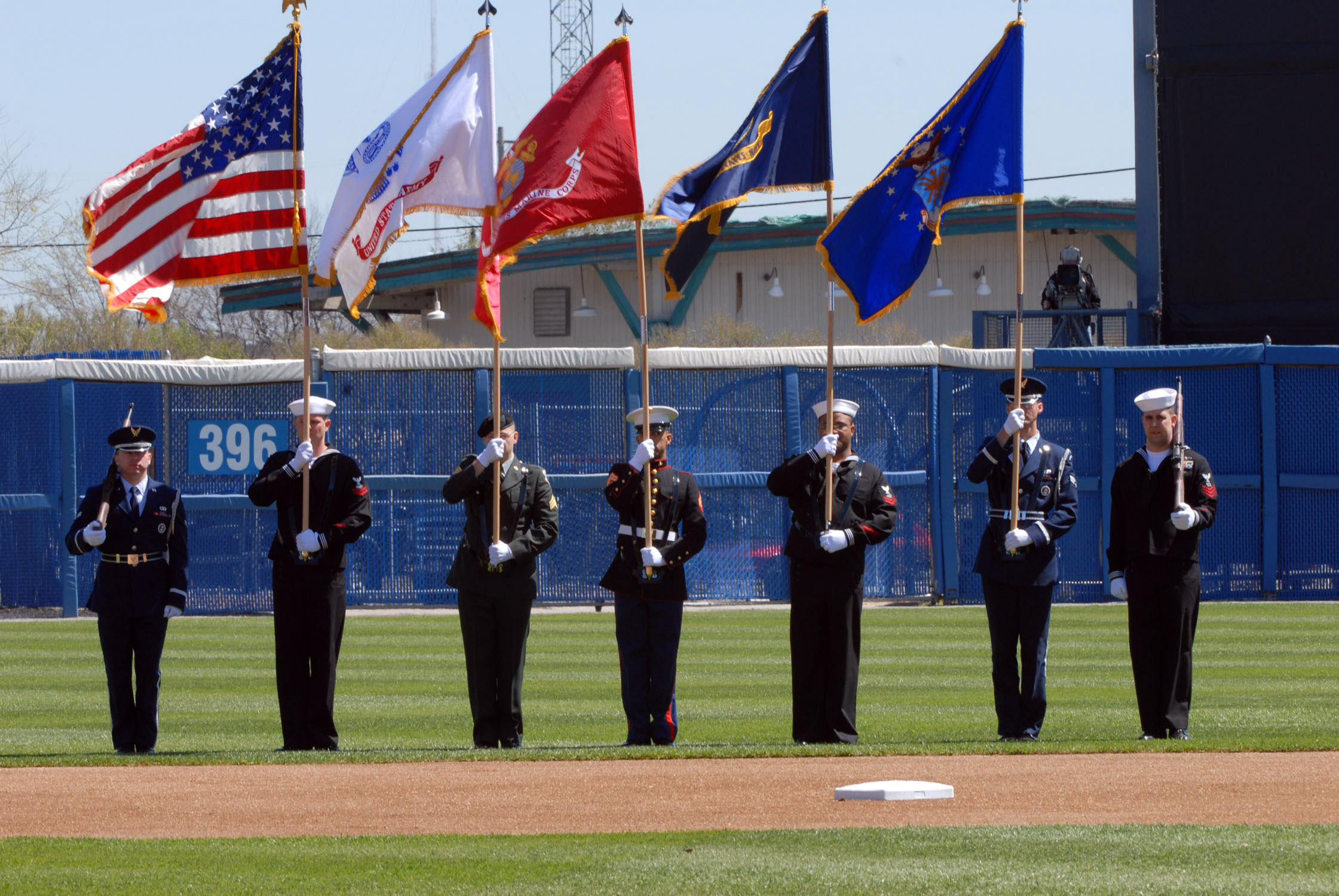 070330-N-0924R-044 Norfolk, Va. (March 30, 2007) - Air Force Airman First Class Adam Solarski, Navy Petty Officer Brandon Urick, Army Sgt. John Mcintyre, Marine Cpl. Jeremy Miller, Navy Petty Officer Raymond Barnes, Air Force Senior Airman Andy Selbomridge, and Navy Petty Officer Luke Potter present the colors at an exhibition game between Major League Baseball's (MLB) Washington Nationals and Baltimore Orioles at Harbor Park March 30. It was the first ever exhibition game between two Major League Baseball teams at the downtown Norfolk stadium. Navy photo by Mass Communication Specialist Seaman Cory Rose (RELEASED)
The Boston Red Sox have submitted a formal bid to host the 119th meeting of Army and Navy football game in 2018. Navy athletic director Chet Gladchuk confirmed that the bid has been placed with The Baltimore Sun. The New York Yankees also submitted a bid to host the game, according to Gladchuck. Several other professional sports teams and stadiums, including the New England Patriots' Gillette Stadium, also are "in the mix."
The Army-Navy game traditionally is held at Lincoln Financial Field, the home of the Philadelphia Eagles.The game will occasionally move to other venues. The most recent game not played in Philadelphia took place in Baltimore's M&T Bank Stadium in 2016. The 2017 game will be held at Lincoln Financial Field.
The meeting of the military academies hasn't been held at a facility truly designed for baseball since a 1930-31 stint at Yankee Stadium. Fenway Park also has some experience hosting football games, the iconic Boston ballpark saw Notre Dame defeat Boston College in the fall of 2015, and it will host three more college football matchups in 2017.
An announcement about the location of the 2018 Army-Navy game is expected to be made in May, as per the Baltimore Sun. Army and Navy traditionally have awarded the games in five-year blocks, though the most recent cycle was for eight years. Gladchuk and Army athletic director Eugene "Boo" Corrigan will visit Fenway, Yankee Stadium and the other potential sites before making their decision this summer.
[revad2]