U.S. Navy Destroyer Fires Warning Shots At Iranian Vessels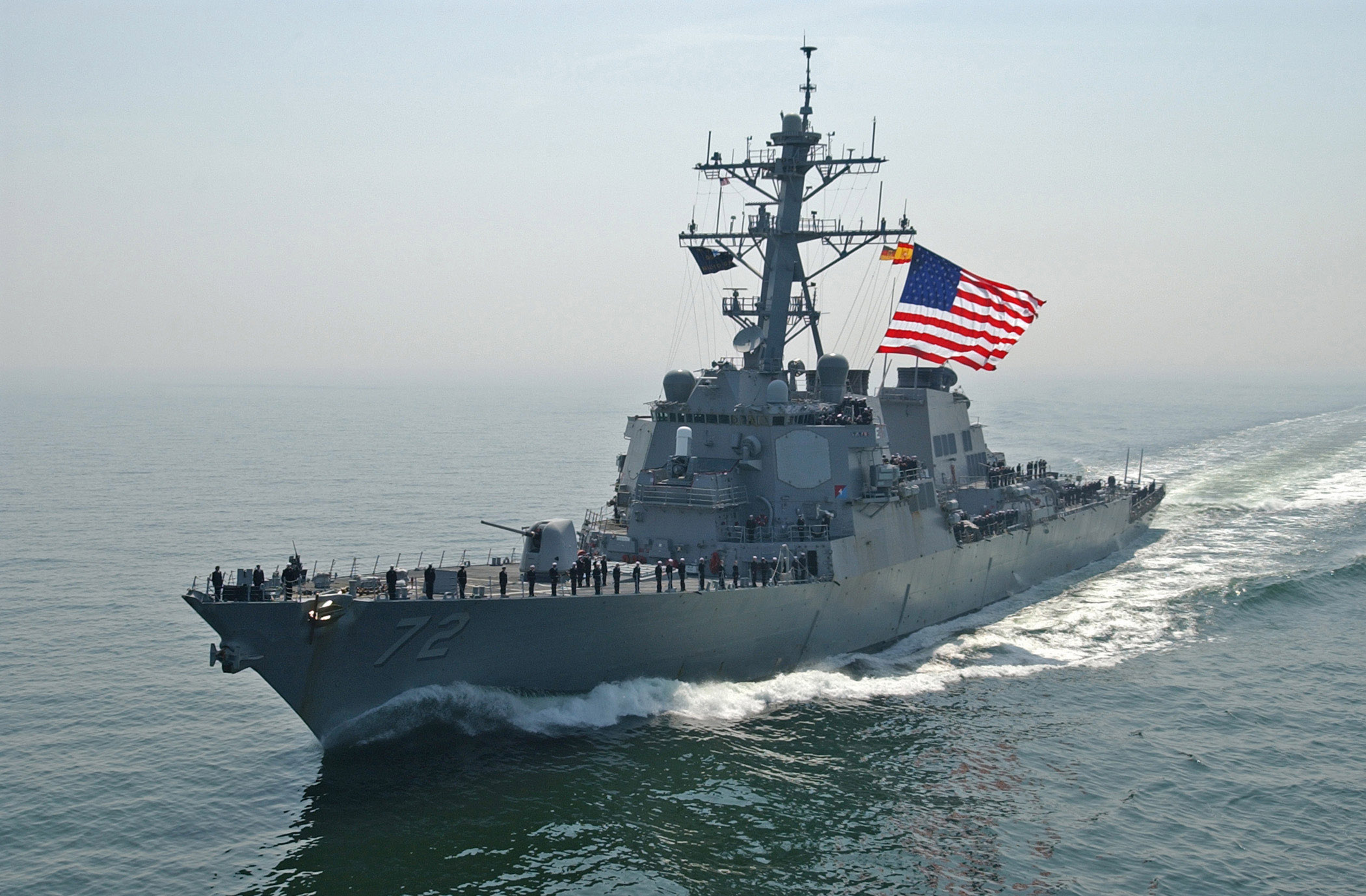 070528-N-5459S-004 BALTIC SEA (May 28, 2007) - Guided-missile destroyer USS Mahan (DDG 72) approaches guided-missile cruiser USS Normandy (CG 60) during a "Sail Pass" in the Baltic Sea. Mahan recently turned over duties to Normandy as the flagship for Rear Adm Michael K. Mahon, commander of Standing NATO Maritime Group One (SNMG1). U.S. Navy photo By Mass Communication Specialist Seaman Vincent J. Street (RELEASED) Photo released by LCDR Joel Stewart, SPAO for Standing NATO Maritime Group One (SNMG1). Contact at:
[email protected]
or 757-443-8659
A U.S. Navy destroyer fired three warning shots at four Iranian vessels on Sunday after the Islamic Republic's boats started to approach at high speeds near the Strait of Hormuz, U.S. Defense officials told Reuters.
The USS Mahan established radio communication with the vessels but they did not respond to requests to slow down and asked the Mahan questions.
The Navy destroyer fired warning flares and a U.S. Navy helicopter dropped a smoke float.
The Islamic Revolutionary Guard Corps boats came within 900 yards of the Mahan, which at the time was escorting two other U.S. ships.
"Disregarding the warnings, the IRGCN vessels continued to directly approach Mahan at a high rate of speed. Mahan then fired three warning shots with a crew-served 50 caliber machine gun, and the IRGCN vessels arrested their high-speed approach," a Navy official told CBS News.
"Naval Forces Central Command assesses this interaction as unsafe and unprofessional due to the IRGCN's vessels high speed approach on Mahan with weapons manned and disregard for repeated warnings via radio, audible siren, and ship's whistle," the official added.
Sunday's incident was only the most recent Iranian provocations.
In early September, a U.S. Navy ship was harassed in the Persian Gulf by seven Iranian ships.
One U.S. Defense official that the USS Mahan had seven interactions with Iranian vessels over the weekend, but all of the other ones were deemed safe.