Michigan House Republicans Pay Tribute To Michigan Military Personnel And First Responders Just Before 9/11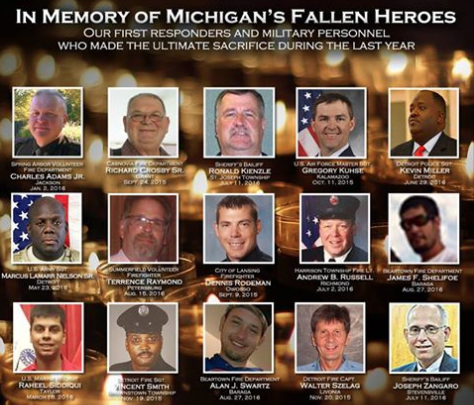 Every year around September 11th, the Michigan House has a special House ceremony to honor Michigan first responders and military personnel that have paid the ultimate sacrifice over the past year.
This year, the ceremony was held on Thursday for 15 of those who have died serving the United States of America.
"Our first responders and military personnel are on the front lines every day to protect and serve us, and they deserve to be honored in every way possible," House Speaker Kevin Cotter told AmericanMilitaryNews. "It's been an annual bipartisan tradition in the Michigan House to pay tribute to those brave individuals who made the ultimate sacrifice while at the same time inviting local first responders and military personnel to the state Capitol to show our gratitude for their service."
The ceremony began at noon on Friday with each House lawmaker given the opportunity to invite two military personnel or first responders from their legislative districts to the event.
The House session was called to order by Speaker Kevin Cotter and then Berrien County Sheriff's Chief Chaplain Brian Hall offered the invocation.
The colors were then posted by the Van Buren County Sheriff's Department color guard, followed by the Pledge of Allegiance.
The names of the 15 military service members and first responders who died over the past year were then read and later, the color guard were led out of the chambers with "Amazing Grace" being played by bagpiper Bill Collins.
A video of the 15 military service members and first responders was then posted onto the Michigan House Republicans Facebook page.