Hillary Clinton Goes Into Panic Mode, Security Steps In, While Protesters Shout At Her On Stage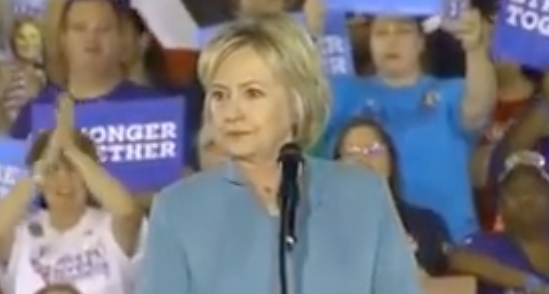 Hillary Clinton's face quickly turned to fear and panic as protesters began to shout at her while she was giving a speech at a Las Vegas rally on Thursday.
In the video, Hillary Clinton can be seen whipping her head around quickly towards the animal rights protesters who were shouting at her and holding up a banner. Her facial expression turned to fear and panic as they shouted at her. In mere seconds, a Secret Service agent came to her protection.
"You're okay," the agent can be heard saying over the mic.
"Keep talking. We'll handle it. We're not going anywhere," he said. "Keep talking ma'am, keep talking," as Hillary Clinton stood still with her eyes fixated on the group of protesters who were shouting at her.
"Okay, we'll keep talking," Clinton said.
She then quickly made up that the people protesting must be Trump protesters and tried to talk the protesters away.