Watch footage from this ISIS fighter's headcam until he dies
An ISIS fighter records his final moments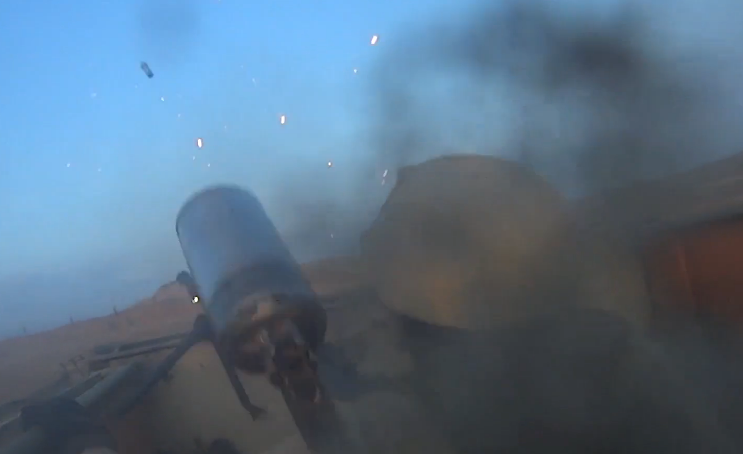 ISIS fighter final moments (YouTube)
Watch this first-person footage of an ISIS terrorist's last words after being shot during a raid on U.S. allies. VICE has obtained headcam footage of a group of ISIS terrorists attacking Kurdish peshmerga troops in northern Iraq.
The headcam footage comes from an ISIS fighter who died fighting peshmerga troops in Northern Iraq in March, 2016. The battle took place just 30 miles north of Mosul.
This footage is unlike other media normally released by ISIS. It shows panic, chaos and the cowardice of their followers as they flee on foot after the improvised armored car they are driving is struck by a Kurdish rocket. This footage is a stark change from the propaganda videos normally released by the group. It showcases the grim reality of what it's like to be an ISIS fighter and is a massively different from the image they are attempting to portray in their normal propaganda videos.
In the very beginning of the video, several militants say goodbye to an ISIS suicide bomber. The suicide bomber advises his "brothers in the state of the caliphate" to "fear god and speak with you about the operations of martyrdom because it is the closest way to paradise."
The suicide bomber can later be seen driving away in a vehicle-born improvised explosive device while a number of ISIS fighters drive away in an improvised armored vehicle stocked with a variety of weapons including rockets.
One of the fighters continually says, "allahu akbar" which translates to "god is great" or "god is the greatest."
At one point, the vehicle is struck by a peshmerga rocket and the fighters are forced to exit the vehicle. One of the fighters mentions that the driver, Khattab, was killed in the blast.
The ISIS fighters try to flee, but the one with the headcam is shot and later dies.
ISIS' footprint in the Middle East is slowly diminishing day-by-day as Iraqi forces and the U.S.-led coalition continue to push back on the terror group. In July, Mosul, ISIS' stronghold in Iraq, was liberated of ISIS after having launched a nine month campaign to rid the city of ISIS militants.