Failed North Korean Missile Test Is Spectacular Failure And Draws Ire of U.N. And China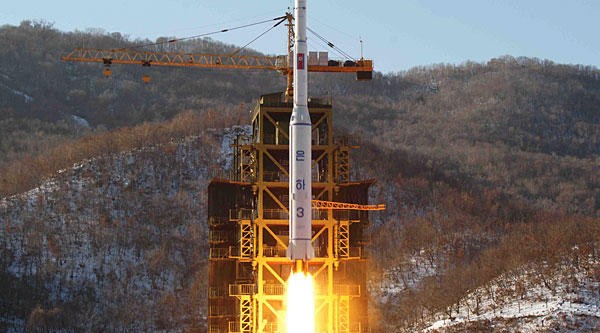 North Korea suffered a failure of epic proportions on one of the most important dates on the North Korean calendar. The regime attempted to launch an intermediate-range missile on the 104th anniversary of Kim Il Sung's' birthday. Sung is the country's not-so-eternal "eternal leader". He is most well known for being leader of North Korea from its establishment in 1948 until his death in 1994. He is the grandfather of North Korea's current leader, Kim Jong Un.
The missile launched was an intermediate-range ballistic missile known as a "Musduan". It has been designed to be capable of delivering a 1.3-ton nuclear warhead as far as Guam, according to the Washington Post. North Korea attempted to launch the missile from its eastern coast at approximately 5:30 AM local time. There is some debate about what caused the failure but it has been confirmed as a failed launch. According to an official from South Korea's Joint Chiefs of staff, the missile deviated from its normal trajectory. U.S. officials claim the missile "blew up on launch".
Anticipated launch of new North Korean intermediate-range ballistic missile results in complete failure. "It blew up on launch," US official

— Lucas Tomlinson (@LucasFoxNews) April 15, 2016
This launch is one of many recent tests carried out by the North Korean government. The North has launched several short to mid-range missiles into the sea of Japan and has allegedly conducted as many as four nuclear tests in the past six months. The North has a history of engaging in "sabre-rattling" to draw aid for its impoverished economy and people. However, many analysts are claiming these recent acts of aggression could prompt severe consequences from both the U.N. and China. The U.N. has condemned the test and threaten North Korea with further sanctions. Chinese officials have also criticized the recent tests, stating via their official Xinhua news agency:
"The firing of a mid-range ballistic missile on Friday by the Democratic People's Republic of Korea [DPRK], though failed, marks the latest in a string of sabre-rattling that, if unchecked, will lead the country to nowhere. Nuclear weapons will not make Pyongyang safer. On the contrary, its costly military endeavours will keep on suffocating its economy."
It appears the missile launch has failed to accomplish any of the goals set out during planning the launch. Its failure to launch was an embarrassing black-eye for the North Korean military on what they consider a sacred day. It was a technological let-down, as it failed to show the country is capable of successfully launching a missile of this kind. And most importantly it has drawn further sanctions from both the U.N. and China, leaving the country under the strictest sanctions in the nation's history.
How do you think the Chinese Government and the U.N. should handle North Korea's repeated missile launches and nuclear tests? Sound off in the comment section below.