Leaked Document: One-Third Of 847,000 Veterans In VA Backlog Already Died
As if the incompetence of the VA could get any worse, a previous whistleblower has provided the Huffington Post with documents from an internal report at the VA that shows nearly 1/3 of veterans on the infamous VA backlog, waiting months and years to receive medical care, have already died.
It is of little amazement to most that the VA's internal records are this unorganized and that the backlog hasn't gotten much better in the years that President Obama was going to fix it all. But the magnitude of injury and death this is creating for our veterans is unacceptable.
None of this has stopped the VA from spending on frivolous items like $500,000 in artwork during this backlog crisis while having record keeping rooms filled, literally, to the ceiling with paper records that are completely inaccessible. Check out these shocking photos.
Democrat President Obama tried to overhaul the VA but failed in dramatic fashion because lack of will power and leadership. And Republicans control Congress which control the U.S. House and U.S. Senate committees that oversee veterans affairs – but where have they been? And given how pathetic most of our politicians are we hardly doubt a Republican President would do any better taking on the entrenched ring of corruption that surrounds the VA. Military veterans deserve the best care money can buy but for some reason politicians have never forced real change at the VA.
Our veterans continue to die because of this.
I guess corporate lobbyist connections are worth more than a soldier's life.
_________________________
From The Huffington Post
WASHINGTON — More than 238,000 of the 847,000 veterans in the pending backlog for health care through the Department of Veterans Affairs have already died, according to an internal VA document provided to The Huffington Post.
Scott Davis, a program specialist at the VA's Health Eligibility Center in Atlanta and a past whistleblower on the VA's failings, provided HuffPost with an April 2015 report titled "Analysis of Death Services," which reviews the accuracy of the VA's veteran death records. The report was conducted by staffers in the VA Health Eligibility Center and the VA Office of Analytics.
Flip to page 13 and you'll see some stark numbers. As of April, there were 847,822 veterans listed as pending for enrollment in VA health care. Of those, 238,657 are now deceased, meaning they died after they applied for, but never got, health care.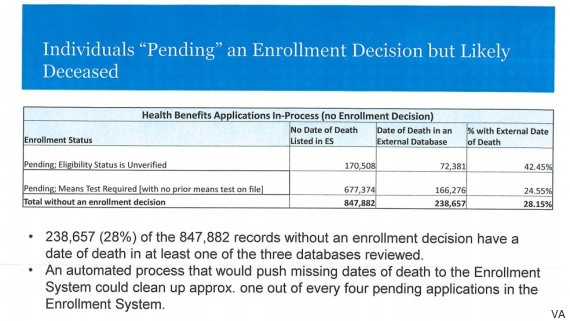 While the number is large — representing nearly a third of those listed as pending — some of the applicants may have died years ago. The VA has no mechanism to purge the list of dead applicants, and some of those applying, according to VA spokeswoman Walinda West, likely never completed the application, yet remain on the pending list anyway. West said the VA electronic health record system has been in place since 1985, suggesting some of the data may be decades old and some of those people may have gone on to use other insurance.
Read more at the Huffington Post
Does the VA need to be completely overhauled? Tell us in the comments below! Stat!