(Video) Snowden Returns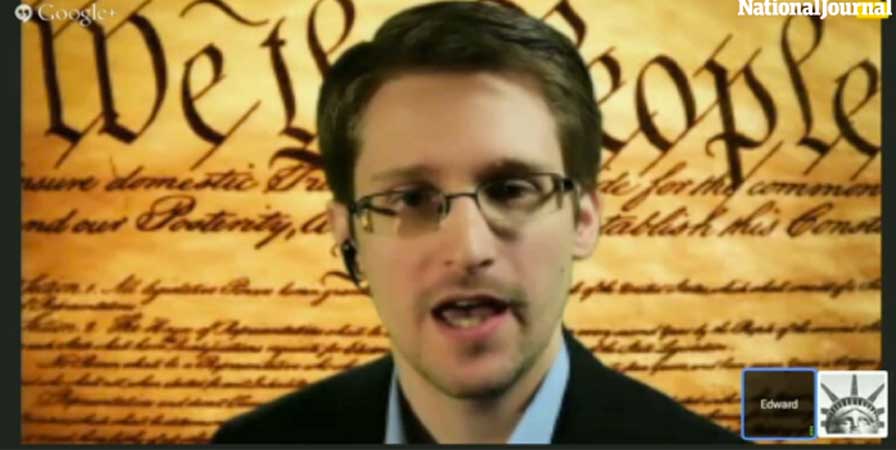 Edward Snowden, who is currently hiding out in Russia under asylum, surfaced at a Google Hangout in Texas.  During the interview, Snowden said that the government does not know the information that he has and that Congress needs its own watchdog group.  He also said that it is NSA leaders that have harmed the United States' national security, "More than anyone else."
If you have tips you want American Military News to investigate please email [email protected]. Your identity will be protected.
____________
America's most high-profile fugitive visited one of the country's most popular entertainment festivals in Texas on Monday, drawing thunderous applause from a crowded room filled with his adoring fans.
Edward Snowden, appearing from Russia through a live video stream, told attendees of the South by Southwest Interactive conference in Austin that Congress had fundamentally failed to do its job as an overseer of the government's bulk surveillance programs, declaring that "we need a watchdog that watches Congress."
 The former National Security Agency contractor, in a conversation with the American Civil Liberties Union's Christopher Soghoian and Ben Wizner, also charged the current and most recent chief of the NSA as the two people most responsible for jeopardizing the country's national security due to their preference for aggressive collection of data rather than protection of it after the Sept. 11, 2001, terrorist attacks.
"More than anything, there are two officials who have harmed our Internet security and national security," Snowden said, his image backdropped by an enlarged copy of the U.S. Constitution. "Those two officials are Michael Hayden and Keith Alexander."
He added: "When you are the one country that has a vault that is more full than anyone else's, it doesn't make any sense to be attacking all day and never defending your vault. And it makes even less sense when you're setting the standards for vaults worldwide and leaving a huge back door open."
Snowden also told SXSW that the technology community can push for changes to the way Internet data is collected and stored even in the absence of action from Capitol Hill, specifically citing the need for end-to-end encryption of data, which he likened to a "defense against the dark arts for the digital realm."