Alaskan Glacier Melts, Reveals Secrets From 61 Year Old Air Force Crash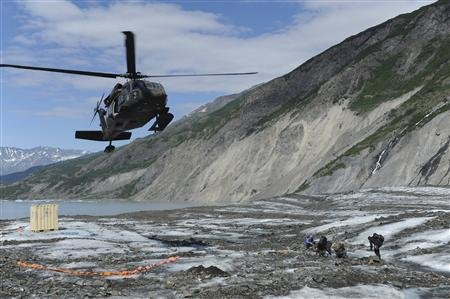 The Hawaii-based Joint POW/MIA Accounting team has made an incredible discovery on the Colony Glacier, 50 miles east of Anchorage, AK: The remains of a tragic plane crash that took place over 6 decades ago and killing all 52 servicemen on board. As glaciers melt, they push debris to the top that became part of the glacier decades before.
The remains of the 154 foot C-124 Globemaster II Air Force cargo plane that went down in midwinter 1952 due to bad weather. The debris is now being found 12 miles from the wreck site and may take years to fully surface. Already parts on the plane and what is believed to be human tissue, have emerged.
___________
ANCHORAGE, Alaska (Reuters) – An Alaska glacier is exposing remains from a military air tragedy six decades later.
Relics from an Air Force cargo plane that slammed into a mountain in November 1952, killing all 52 servicemen on board, first emerged last summer on Colony Glacier, about 50 miles east of Anchorage.
That discovery, by Alaska National Guard crews flying training missions out of Anchorage, put into motion a sophisticated recovery program carried out by the Hawaii-based Joint POW/MIA Accounting Command.
After last year's initial work – when nearly everything that rose to the glacier's surface was picked up – the JPAC team came back this summer to collect additional relics pushed out of the ice since then.
"As the glacier melts and the glacier moves, more material comes up to the surface," Dr. Gregory Berg, the forensic anthropologist who leads the team of specialists examining the crevasse-ridden ice field, told reporters at a news briefing last week.
Among the personal items collected so far: A tiny fishing kit, a compass, a survival kit, a survival suit, a hockey puck, and a mini-box of Camel cigarettes. Those and other items are being saved for a future memorial, said Doug Beckstead, a historian at Anchorage's Joint Base Elmendorf-Richardson.
Also collected were some human remains, which Berg declined to describe in detail. But he said the material, encapsulated for decades in ice, is well-preserved and includes "things we believe to be tissue" – a contrast with conditions in Southeast Asia or other hot climates where the team travels to retrieve military remains long ago decomposed.
Read More At Reuters