(VIDEO) Disabled Vet Rep. Tammy Duckworth Grills IRS Contractor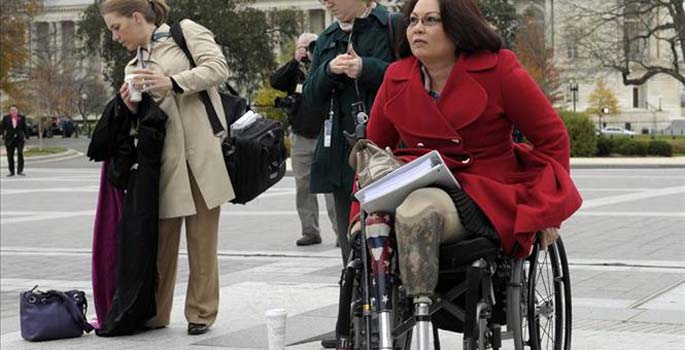 Nothing makes Americans and especially veterans more angry when undeserving people take advantage of government programs intended for those who do. This was on full display yesterday when an IRS contractor who claimed to be disabled came face to face with double amputee and veteran Rep.
Tammy Duckworth. This IRS contractor broke his foot playing prep-school football at a military school. He went on to play in college but is collecting a great deal of benefits from his prep-school "injury". The exchange that follows is a must-watch.
____________________
Rep. Tammy Duckworth, D-Ill, lost her legs and the use of her right arm as a helicopter pilot in Iraq in 2004. She was awarded a Purple Heart for her combat injuries.
Braulio Castillo broke his foot in a prep school injury nearly three decades ago at the U.S. Military Preparatory School, which he attended for nine months before playing football in college. He owns a technology business certified as a service-disabled, veteran-owned company eligible for government set aside contracts.
The two met at a House Committee on Oversight and Government Reform hearing Wednesday in an exchange neither will forget anytime soon.
For background, what brought them together was a months-long House probe into whether Castillo's company won IRS contracts thanks, in part, to help from a top contracting official and friend inside the IRS named Greg Roseman, who pleaded the Fifth Amendment when called to testify.